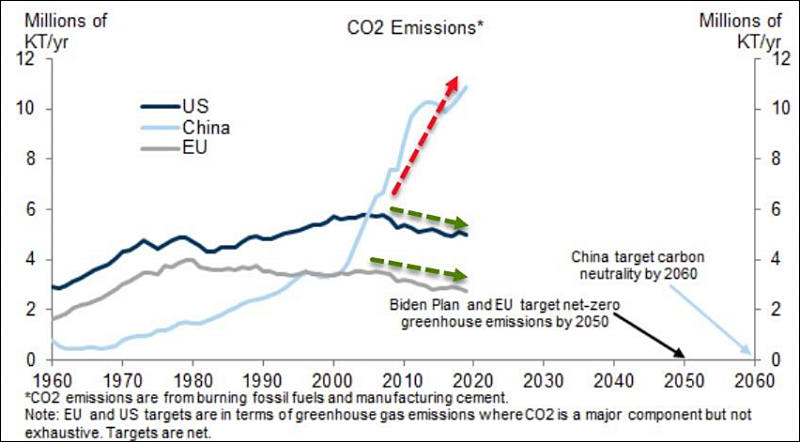 From https://www.foreignaffairs.com/articles/united-states/2020-10-09/hillary-clinton-national-security-reckoning
For decades, policymakers have thought too narrowly about national security and failed to internalize—or fund—a broader approach that encompasses threats not just from intercontinental ballistic missiles and insurgencies but also from cyberattacks, viruses, carbon emissions, online propaganda, and shifting supply chains.
I think it is beyond chutzpah to buy goods and resources for hundreds of billions of freshly made up dollars without giving anything in return, and after this BLAME manufacturer or supplier for carbon emissions.
Administrations of both parties have long underappreciated the security implications of economic policies that weakened strategically important industries and sent vital supply chains overseas. The foreign policy community understandably focused on how new trade agreements would cement alliances and extend American influence in developing countries.
Wait, wait. She talks about herself? As it seems like she wants to set things in reverse. She and Trump are the puppets of corporations, not the other way around. Of course now corporations are thinking on possible solution on how to return manufacturing (in fairy tales world) and get some resources (preferably using bombs and for free).
Dusting off the Cold War playbook will do little to prepare the United States for adversaries that use new tools to fight in the gray zone between war and peace, exploit its open Internet and economy to undermine American democracy, and expose the vulnerability of many of its legacy weapons systems. Nor will such an anachronistic approach build the global cooperation needed to take on shared challenges such as climate change and pandemics.
Economic competition and wars are being won in internet, right. Sorry, wrong. It is just area where US are still strong. For a little while.
The overmilitarization of U.S. foreign policy is a bad habit that goes all the way back to the days when President Dwight Eisenhower warned of "the military-industrial complex." But many politicians are too afraid of being attacked as soft on defense to listen. So they pile mission after mission on the Pentagon and authorize ballooning military budgets while starving civilian agencies
What? Bad habit? As far as I remember Trump was bad because he told such things (but did mostly reverse!).
China has relied on financial coercion and economic statecraft to gain influence as it builds infrastructure around the world. In recent years, while the Trump administration was gutting the State Department and undermining U.S. alliances in Asia and Europe, China was doubling its diplomacy budget and pouring untold billions into developing countries, now outstripping American aid. China today has more diplomatic posts around the world than the United States does.
Internet and diplomats will win this war for US. Not economy. Such shit never worked, but may be this time?
Instead of continuing to expand the fleet of vulnerable surface ships, the navy should invest in accelerated maintenance and next-generation submarines.
She is genius. And if China will put thousands of sonars and sensors and will learn how to track and destroy them then investment can be moved to... paper planes.
The United States' dwindling industrial capacity and inadequate investment in scientific research leave the country dangerously dependent on China and unprepared for future crises. The problem goes back decades. When the USS Cole was bombed in 2000, I was shocked to learn that there was only one American company left that manufactured the specialized steel needed to repair the ship's hull. Twenty years later, the pandemic has underscored how much the United States relies on China and other countries for vital imports—not just lifesaving medical supplies but also raw materials such as rare-earth minerals and electronic equipment that powers everything from telecommunications to weapons systems.

The United States should pursue a plan like the one proposed by former Vice President Joe Biden to invest $700 billion in innovation and manufacturing and impose stronger "Buy American" provisions, with the goal of jump-starting domestic production in key sectors—from steel to robotics to biotechnology—reshoring sensitive supply chains, and expanding strategic stockpiles of essential goods.
And it seems like he is Trump lover (in secret), as wants to use $700 billions of freshly made dollars and ask China to build industry for US (won't work other way).
Previous 4 years superb plan did not work (except for stock market), but this time it will. 100%!