photokina:coverage:interview
Table of Contents
Interview concerning GH3
Here it is
: The interview with Markus Matthes, Senior Product Manager of Panasoniic Germany.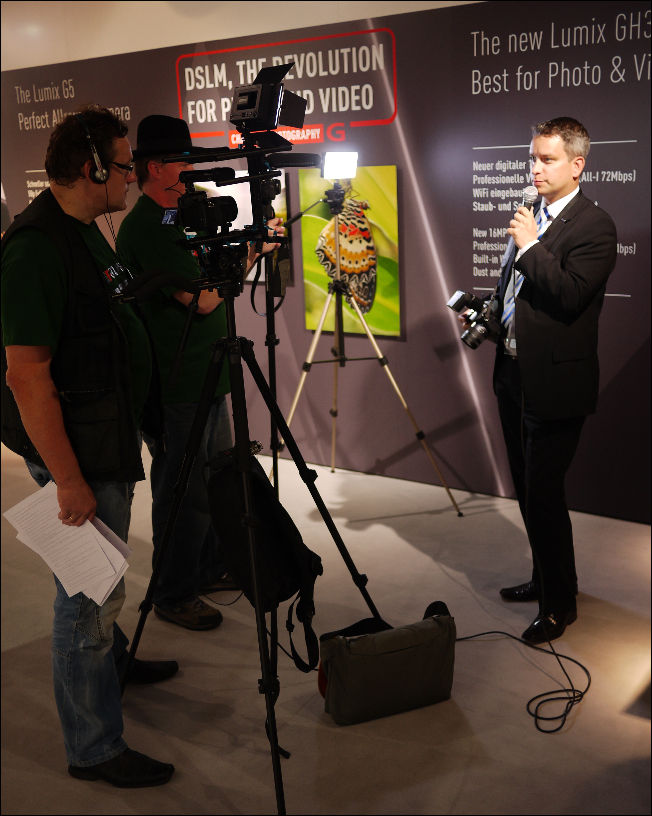 We got many answers, however many questions were not answered.
Find the answers to the questions in bold.
We collected all unanswered questions, and I have been offered by Panasonic to send these to them. Panasonic Germany will forward these questions to Japan, to get the answers from there.
We will see.
IMPORTANT: I could not ask all the questins below. I talked a lot before and after the interview, I tried out a lot. I've answered all the questions to the best of my knowledge. I hope they are all correct, but I can not give a guarantee. When there is "No information", I either could not ask the question or find an answer, or there was just no information available from the Panasonic people. They did not get all technical information from Japan, and the people we talked to were not technicians, but either PR or marketing people.
I hope this information is useful to you. Please also have a look at the video interview. There may be things I have missed here.
Also, I LIKED THE GH3. It had a good feel and I was very impressed with the low light detail and sharpnes in the videos. No matter if it has 4:2:0 or not, it will be a very good camera. Perhaps not all what we have expected or hoped for, but there may be alterations in the final firmeware, firmware updates and there is Vitaliy :)
Questions list
photokina/coverage/interview.txt · Last modified: 2013/02/16 03:06 by vitaliy_kiselev